CauseWell Insurance Services is an independent brokerage offering car, homeowners, business, and life insurance. We believe that the insurance brokerage model is the best way for you to secure great insurance coverage at the best prices possible. It's the most responsive, it's the most personal, and we've observed two things:
1. Insurance companies with the best service and prices 2 or 3 years ago may not be the same today. Most people stay with them anyway and lose money as a result. 
You can't blame them! Who looks forward to shopping for insurance? But remember, you can almost always save money on your insurance if you shop. Our idea is to do the shopping for you. We'll talk to you, ask you the right questions, and help you to save money on your insurance. If we can't save you money or help you secure a better policy with a better company then we'll tell you so! If there's no reason to change, we will tell you so too! We can always shop again in a year or two and next time it'll be even easier because we got to know you a little bit.
2. Many people that we meet are not insured fully or properly.  CauseWell works with top rated carriers who offer the best kinds of coverage, kinds of coverages that many agents forget to discuss with clients.  
Our goal is simply nothing less than happy customers. We want all of our customers to feel the way Ed (below) does about us.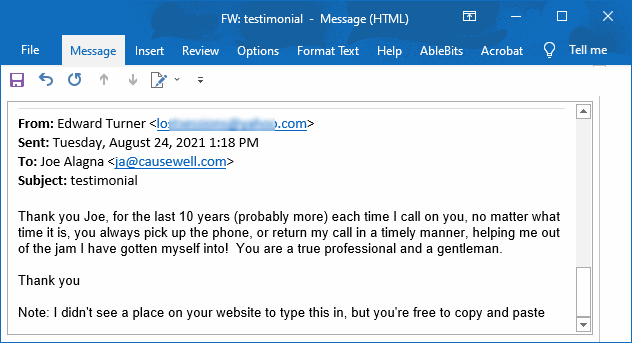 CauseWell Insurance Services also likes to be involved in and around our community, and we're a member in good standing of the Chino Valley Chamber of Commerce.
We're also a proud member of the ThinkNLocal community. Through this program, we support local schools and charities by donating part of our revenues to those charities every month. We support several local schools and non-profits through this association. You can download the ThinkNLocal web app by clicking this link.