Why Choose CauseWell Insurance Services?
We Are Independent Brokers and Agents
We offer car insurance, homeowners, business, and life insurance from reputable insurance carriers. Our relationships with these insurance companies allow us to shop for a policy that meets your coverage needs and budget. In addition, we offer you expert advice, extensive choices, and superior customer service. Allstate, Kemper, Safeco, and Foremost are just a few on the growing list of insurance company partners. We'd love to help you improve your situation and save money. We are also insurance bundle experts – You can save a lot that way.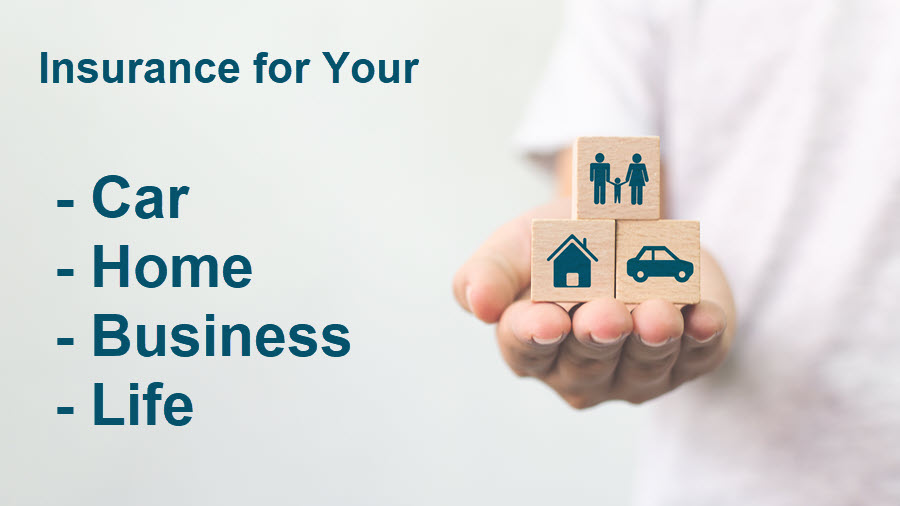 An Agency You Can Trust
CauseWell Insurance Services' philosophy is that your objectives come first — not ours, not our insurance carriers. We have your best interests at heart, and we will work hard to match you with insurance plans and companies that will help you achieve your goals all around. Whether you are looking for insurance for yourself, your family, or your business, CauseWell Insurance Services can help you find a solution to meet your needs.
More Choices and Better Service
As Independent Agents, we offer insurance policies from many insurance companies, which means we can shop a variety of insurance options for you. We take pride in the diversity of insurance options and work hard to tailor policies to meet the needs of each unique customer.
Once we've found the right insurance policy for you, we'll provide you with an exceptional and reliable quote. You can count on us to be there for you if you have a claim or simply a question or concern.
Our Associated Insurance Companies:
Allstate | Chubb | Encompass Insurance | Foremost Insurance | GUARD Insurance Companies | Kemper | Liberty Mutual | National General Insurance | Nationwide | Pacific Specialty | Safeco | Stillwater Insurance Group | Travelers
These are all well-established, highly rated insurance carriers, and they all want to compete for your business. Through our experience, we know which of them are best for your particular needs.
Let us shop for you and help you save.  Fill out the form on this page, and we'll contact you for more information.  We use a thorough process that will help you compare some of the finest insurance companies in the country.
Through our affiliates, CauseWell Insurance can offer many types of insurance throughout the United States, but our primary area is Southern California (the Inland Empire), including the cities of Chino, Chino Hills, Eastvale, Corona, Ontario, Norco, Pomona, Yorba Linda, Anaheim Hills, Brea, Anaheim, Diamond Bar, Jurupa Valley, & Riverside.

Your Information Is Safe
We will not sell, rent, or otherwise share your information with anyone except for the companies we use to provide your service.

Secure Forms
100% Protected. SSL Protocol. All information is encrypted and transmitted without risk using a Secure Sockets Layer protocol.

Need Help?
Call Us Toll Free: (800) 402-8880  from 9am – 5pm PST, Monday through Saturday
Email us anytime by clicking here
Agents and Brokers and Carriers – Oh My!
If you're just looking for an insurance quote, you can skip all of the below. You'll be in good hands with us – we are a simple insurance brokerage, and we will shop for several companies and offer you the best quote that we can find for you.  But we wanted to share more information with you about the differences between Agents, Brokers, and Carriers.  So consider what you see below here a resource section for those of you who are interested.
The insurance industry is enormous.  The National Association of Insurance Commissioners estimated that insurance agents and brokers wrote close to $720 trillion in premiums in 2020. And that was a down year and doesn't include life and health insurance.  Most of it was cars, "other", and homeowners.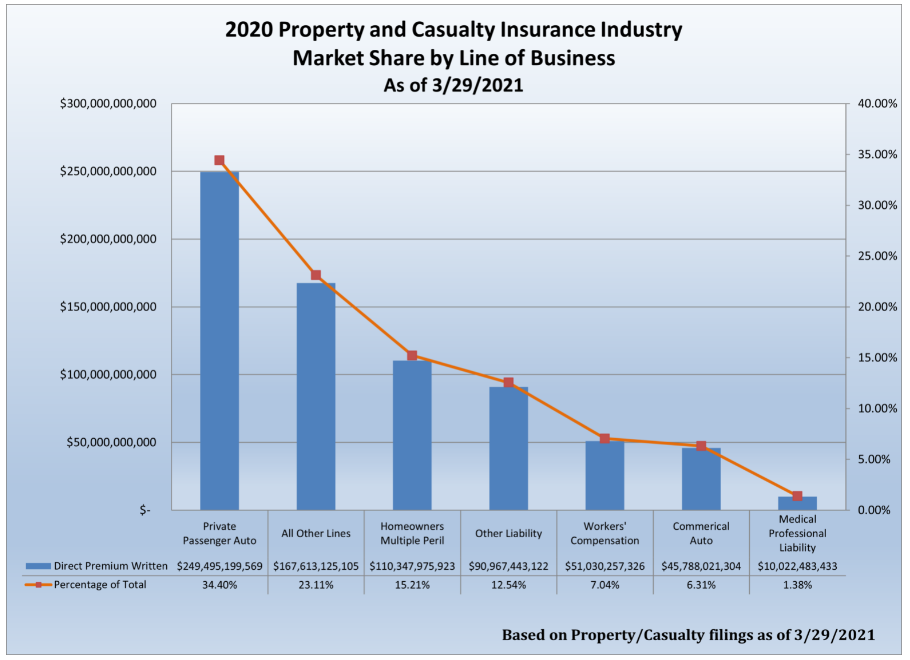 Insurance is also essential. It's how people and companies protect their hard-won assets.  No one wants to work for years on end and lose it all because of one unfortunate occurrence. It's easy to lose sight of the fact that insurance companies pay out the more significant portion of those premiums in claims.  Insurance can make you whole during the worst times in your life.
In this fast-changing business, there is no way for the average consumer to keep up. So good Agents and Brokers play an essential role in assisting buyers in choosing the best plans to meet their needs.  They know the business and explain the differences between what's covered and what is not covered.
Agents and Brokers both go through extensive training. In addition, they must be licensed and are required to meet continuing education requirements in almost all states. It's no easy task to learn about and sell insurance. There is a well-established system of Insurance Companies (known in the industry as Carriers), Brokers, and Agents.  What are the differences?
Carriers
Carriers are at the top of the heap.  They take the risk of ensuring that you are made whole again if you have a car accident or if a covered hazard destroys your home.  These are the Allstates and State Farms of the world.  They often own and back smaller carriers too.  An intriguing and little-known fact is that even insurance companies need insurance.  They are supported by "reinsurers," insurance companies that cover them for catastrophic disasters.  But even the biggest insurance companies rely on their agents and brokers to find customers and explain the details of their products.
Agents and Brokers come in many flavors.  Some are in business for themselves. Some are employed by Independent Brokers or Agencies. Many work directly for carriers on a salary, commission, or both. Regardless of how they are compensated, they are all held to very high standards of conduct by the insurance industry and government regulations. Customers' needs are to come first. Agencies, Agents, or Brokers can face consequences if they forget that. CauseWell Insurance Services was founded with the mantra that customers' needs must always come first. Regardless, there are differences, and we'll explain them here.
Captive Agents
Agents come in a few sub-categories, depending on the insurance company. For example, agents can be involved in sales, support, or service. However, in almost all cases, they still need to be licensed.  Captive Agents can work in the field and visit your home and office, or they can offer insurance just by the Internet or telephone.  The one thing they have in common is that they are working for one company.  There is a benefit to everyone in this in that the agents are usually well informed on their products and can explain them easily.  They are also very connected to their superiors and Underwriters (Underwriters set premiums and decide whether a client is insurable or not).  It's easier offering one company's products, and it's nice to be able to negotiate with someone you know in underwriting if you need some special concessions for a difficult-to-insure client or situation.
Being a captive Agent also removes pressure from Agents because they generally work on a salary. In addition, several insurance companies are direct-to-consumer only. Therefore, they only offer their product through employees.  The concept sounds good – They don't have to pay commissions to pass those savings on to customers.  But there is more than meets the eye here – They still have to spend millions on celebrities and television super bowl commercials.
Independent Brokers
We chose to be independent. As a result, we save insurance companies a lot of money on salaries because we are only paid when we produce business.  That is not our motivation, however. Instead, our choice to be independent comes from our desire to be able to shop for you! 
Insurance is one of those products where consumers tend to buy and forget.  Most often, this is to their detriment.  Insurance is one of the types of purchases where change occurs regularly.  The company that offered the best prices and coverage two years ago is not likely to be the best today.
Another thing to remember is that you change every few years too.  One of my first customers was a young man with a family.  When my son was in high school, they spent time working on my son's off-road truck in the garage.  They were both in high school.  Today, he's a successful Manager in an air conditioning company, has a family, and has some decent equity in his home.   He's not the same person who used to hang around with my son after school, and he won't likely be in the same position a few years from today.  He's a perfect example of how we change and how our insurance needs should change with us.
It pays to look again at your insurance company and your coverage at least every two to three years – maybe even more often. A good independent insurance broker can help you to do that.  In fact, it's not uncommon for us to advise our clients to hold firm with the insurance they already have.  Sometimes it pays not to change.  You may already have the best policy you can get, given your situation and market conditions.
Let Us Offer You a No-Obligation Quote
One of the best benefits of working with us is that we will get to know you better whether you buy or not.  Once we've run a quote for you, we'll have your basic information and let you know if and when new options exist.  Allstate, as an example, recently reduced prices for many of its products.  You might not know this, but we do.  The only way you can find out about things like this is to let us run a quote for you.
You can do this with a simple telephone call or by filling out the form on this page.  We'll call you, and there is no obligation.  Please get in touch.